MELAKA
: Every day, 120,000 flights take off and over 10 million passengers travel by air.
This data is released by the International Air Transport Association (IATA) highlighting the value of the aviation industry, from the perspective of interconnectivity and economic impact.
Chances are, the aircraft you have flown in, be it a Boeing 787 Dreamliner, Airbus A320, A350 or A380, there are structural components manufactured closer to home – at a 58-acre plant of Composites Technology Research Malaysia (CTRM) in Batu Berendam, Melaka.
From the fan cowl that covers an aircraft engine, components of the aircraft wings to the tailplane that provides stability during flight, CTRM is the only facility in the region to have the largest number of autoclaves machinery for processing high-quality polymer composite aircraft structural components.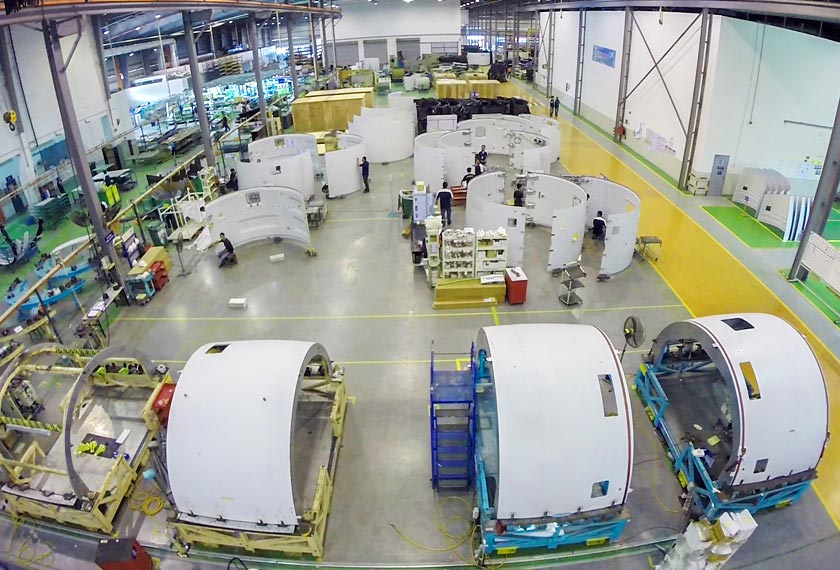 At present, CTRM is part of the global supply chain for composites aero structure for major commercial and military aircraft manufacturers in the world. It serves global brands such as Airbus, Boeing, Spirit AeroSystems and UTC Aerospace Systems.
To Shamsuddin Mohamed Yusof, Chief Executive Officer of CTRM, automation and software optimisation is the key to improve overall factory efficiency and reducing the wastage of raw materials.
"In early 2017, Airbus mooted for digitalisation for the aviation industry between the original equipment manufacturer (OEM) and airliners.
"We need as much data as possible to move from periodical maintenance to preventive and predictive maintenance.
"Data collection and the establishment of database management is vital to data harvesting for analysis and diagnostic of data," he said.
In the next phase of digitalisation, CTRM is on track to applying Aerospace APQP 4.0 digital applications where the entire manufacturing process will be registered through detailed data analytics and dashboard that will aid with the decision-making on a daily basis.
In the aviation industry that is highly regulated, CTRM competitiveness in manufacturing quality products and cost efficiency has elevated the company as the single source supplier for most of the aircraft wing and Nacelle programmes (a housing that holds engines, fuel or equipment on an aircraft) globally.
CTRM's closest competitors include a Japanese company Nikisso that is based in Vietnam and ACC, an Austria company.
CTRM was incorporated on Nov 20, 1990 with Ministry of Finance Incorporated as its principal shareholder. It was acquired by DRB-HICOM in 2013 through 96.8 percent stake ownership.
With regards to DRB-HICOM's future involvement in growing the aerospace market, Datuk Seri Syed Faisal Albar Syed A.R. Albar, Group Managing Director believes that because the aerospace industry has a higher barrier of entry, specific incentives, and government support will be required to expand the aerospace business.
More recently, on April 3, 2019, CTRM was named as the Best Performer 2018 Award in the Airbus Supply Chain & Quality Improvement Program (SQIP) at the Airbus SQIP annual event in Toulouse, France.
CTRM has been an important strategic partner for Airbus in the region, producing major composite aircraft parts covering flat and complexed curvature panels, since 2000.
"May this recognition be the stepping stone for a more exceptional supply chain performance in the future. Having received this award, we are committed to achieving the next recognition, which is the Accreditation Award for 2019," Shamsuddin added.
kontraktor rumah bina rumah pinjaman lppsa pengeluaran kwsp spesifikasi rumah rumah ibs pelan rumah rekabentuk rumah bina rumah atas tanah sendiri kontraktor rumah selangor rumah banglo

Source link